About

This 23 inch wide Apex series light bar is an animal! Producing 1 lux at 749 metres of wide and narrow light spread, it's a perfect all rounder. 

You won't find that kind of distance for this price anywhere else!

Features:

The LED reflectors are designed to capture and concentrate more light from each LED, making the beam more focused
Heavy duty single piece aluminum housing is extremely tough and highly resistant to abrasion, scratches and impact
The combination of 30° spot beam and 60° flood beam provide a more full beam of light.
CREE LED chips boast 78% relative light intensity that enables the Apex light bar to outperform others.
Adjustable mounting brackets allow you to fine tune the horizontal angles between 0°-180°.
Impact Resistant Lens: Scratch and abrasion resistant polycarbonate is highly resistant against stones, bugs and direct hits.
Upgraded inbuilt heat sinks feature faster heat dissipation against scorching weather that you may be driving through.
Sealed to IP67 rating, this LED light bar completely dust, moisture and water proof.
Lifespan of over 50,000 hours of running time

Wiring Kit Included:
Included with the light bar is a heavy duty wiring kit + on/off switch, allowing you to easily and safely install the light bar onto your vehicle.

In the box:
1x 23" LED Light Bar
1x Wiring Kit


Specifications:
Lumen Output (Single): 12800 LM
Operating Voltage Range: DC 9V-30V
Operating Temperature Range: -40°C (-40°F) - 80°C (176°F)
Waterproof: IP67 Rating
Connector Type: 2 Pin Standard Deutsch
Housing Material: Aluminum Alloy
Lens Cover Material: Polycarbonate
Sealing Material: Silicone
Color Temperature: 6,000 K
Expected Lifespan: 50,000 Hours
Relative Light Intensity: 78% (150°C)
Beam Type: Combo
Warranty: 1 Year

Where do you ship from?

We're an Australian based company. We will dispatch your order from our warehouse in NSW or VIC (depending on stock levels).

Your order is then carefully packed and posted with Australia Post, Fastway (or a courier if it's a large item).

Our money back guarantee

If you simply change your mind, are not happy with the product or it is faulty within 30 days, we will replace or refund your product - no questions asked!
Customer Reviews
21 Oct 2019
Jarrad M.

Australia
Apex Series 23 inch lightbar
Unfortunately my previous light bar was a more expensive high quality device but I assumed the technology 5 years later would be ptretty awesome even in cheaper purchases like this one (half) what I paid than my original. This does NOT perform as described! There is no *********** OR increase in width depth any further than my Amarok high beam output. The Apex light just 'White'ns' the light spectrum and brightens. There is no improvement otherwise to my OEM high beam. I will be purchasing another lightbar to get the light expected from a front bar!
Happy Customer
Easy to install and great light coverage
23inch lightbar
Awesome product.. well worth it
23' Apex lightbar
Fast delivery. Good product.
Apex Series LED Light Bar
I have just recently been provided a new hilux ute for work . As I am working remote and traveling long distances at night I felt that the standard Toyota upgrade bull bar a light package was still lacking in some side view and brighter down the middle . The Apex led light bar was the obvious choice and after a quick installation I was presently surprised and driving at night has been made safer and easyer Thanks BAP
Delivered on time
Prompt delivery and light bar looks great.
awsum
bright asf. day maker
Great light bar
This is an awesome light for its size, contemplating putting one on my wife's car as well
Excellent
Very pleasing and prompt delivery. The wife is very happy with her night driving and thanks you very much for a great product.
bying guide
outstanding exsperince
Recieved OK But the mounting
Recieved OK But the mounting brackets sent with the lilght seem to be the wrong m ounts, cannot use the lilght Please supply a phone no so I can speak about this
23" bar
Great. Lights up all around
23 inch light bar
This light bar is not as good as the raptor series. It has great side illumination but not the central beam and depth of the other . Overall 90% still a good light bar Great customer service and quality product thank you
23inch lightbar
Great value lightbar
Great product
The product works great but the product itself was made a little bit rough. The heat shrinks were slightly bent when opening the package.
23 Inch (585mm) Apex Series LED Light Bar
I had my light bar installed by someone that knew what they were doing (because of the complexity of my system) and took for a test last night. The road was tight, hilly and dark and a possom thanks you for saving his life already. Haven't really tested the throw of the spotlights yet but the short range and close range are brilliant. Best value for money I have had in a very long time. Thanks.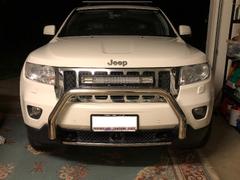 Recommend this one
Great light bar . Excellent light out front and to the sides of vehicle. Really impressed with it the few times have driven long distance at night as it definitely lights everything up around you and makes the drive a lot safer . To make installation faster, the wiring kit would be best to have come with a piggy back connector as some other kits do and it's a lot simpler.
Raptor led lightbar
The lightbar is great, but the wiring harness is useless. It doesn't allow you to wire it up to the high beams on the car. Had to spend another $60 on a proper harness from supercheap
RAPTOR 23" LED Light Bar
Drove from Mackay to Cairns and it lit the world, absolute magic even the wife was impressed by how bright it lit up the road and the sides of the road, very impressive.
Brightly Happy
Easy,quick and a great product have passed onto others and purchases have been made by them.